The people closest to Tua Tagovailoa might say they support him publicly, but there has to be some part of them that wants to scream, "Intervention! Intervention! Intervention!" The parents of the Miami Dolphins quarterback, Galu and Diane, both said their son "comes back," and I can't imagine them saying anything to the contrary.

In his first year under new head coach Mike McDaniel, Tua finally showed glimpses of what made him so deified at Alabama, and if he had any other injury, the hype for next season would've already started. However, he's still in concussion protocol a month after what was his third blow to the head of the year — two confirmed concussions and a concerning blow to the head — and will now miss the Pro Bowl. It's the Pro Bowl so who cares, but at least it was useful this year because I don't know if we get an update on Tua's status if not for his inclusion in the upcoming showcase.
Why would anyone want to ruin Tua's dreams?
It's so easy for me to sit here and write that Tagovailoa needs to take a step away from the game, at least this offseason, and really weigh his options going forward. See how easy that was. Here look at this: Tagovailoa needs to take a step away from the game, at least this offseason, and really weigh his options going forward. I didn't even have to type it out that time. It was just copy and paste.
The Dolphins haven't had a franchise QB since Dan Marino, and all of South Florida wants this just as much as Tua, maybe more. And he was doing it. Miami made the playoffs largely because of the hot start that the QB, Tyreek Hill, and Jaylen Waddle got them off to. We know how close the bond is in locker rooms, and no doubt those guys want him back. My guess is Tagovailoa also would like to return and likely feels like he has an obligation to do so.
An ESPN report said he's been meeting with multiple doctors and specialists since entering protocol, and that's awesome. I hope he's doing it independently of the organization and the NFL though. Nobody knows the exact ramifications of three concussions in a season, but we know it's not good. I hope whoever he's talking to is giving him the unbiased truth. Also, it probably wouldn't hurt to reach out to a person like Andrew Luck who can tell him what life is like after early retirement.
G/O Media may get a commission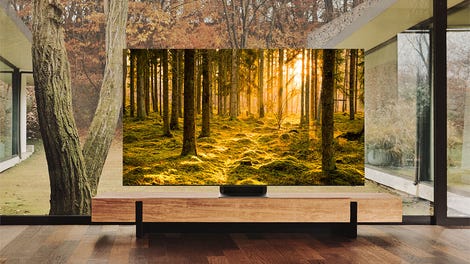 Up to 40% off
Samsung Smart TVs
Vivid colors and deep blacks
It's Oscar season which means it's time to binge all the nominations before the big day. Why not enjoy these pieces of art on a new TV from our friends at Samsung?
So as far as why anyone would want to ruin Tua's dreams — no one does. It's more than a multimillion-dollar decision, it's a quality-of-life choice. One that, in theory, doctors are communicating to him right now.
Anytime Tagovailoa's head gets hit during the rest of his career, fans are going to hold their breath while the press readies its takes. That's the reality of the situation, and it's awful. But it sucks even more for Tua.