The Cincinnati Bengals are looking for a second consecutive trip to the Super Bowl this weekend, and in their way lies a familiar foe. For the last five years, the road to the Super Bowl has run through the Kansas City Chiefs. Fortunately for the Bengals, they've got experience beating the Chiefs. They even beat the Chiefs in last year's AFC Championship Game. In fact, quarterback Joe Burrow has never lost to the Chiefs — he's 3-0 against Patrick Mahomes and co. — and he doesn't plan on starting this weekend.

The city of Cincinnati is buzzing with confidence, and that extends to its highest office. On Thursday, Cincinnati Mayor Aftab Pureval released this video urging Joe Burrow to take a paternity test to figure out whether or not he is in fact Patrick Mahomes' father.
Cringey, I know, but the thought was there. Branching off from "Who Dey" to "Who's Your Daddy?" makes sense. That's just evolving the mantra. Still, it was nothing more than a harmless joke that shouldn't carry any enormous consequences, right?
G/O Media may get a commission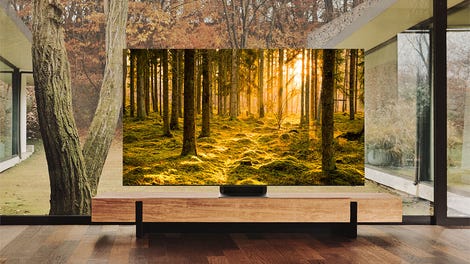 Up to 40% off
Samsung Smart TVs
Vivid colors and deep blacks
It's Oscar season which means it's time to binge all the nominations before the big day. Why not enjoy these pieces of art on a new TV from our friends at Samsung?
Uh oh.

Nobody wants to hear from Jackson or Brittany Mahomes
Brittany Mahomes, Patrick's beloved, and the bane of every Chiefs fan's existence, returned from a year-long slumber just to poke her head out right before the team's biggest game of the season. This can only mean despair for the people of Kansas City. Any time Brittany Mahomes makes headlines, bad things happen. She and brother-in-law Jackson Mahomes were both prominent figures on social media during the Chiefs' postseason run last season, and what happened, hm? They lost! This year, with both Brittany and Jackson taking a back seat, Mahomes re-asserted himself as the best quarterback in the league — he's probably going to win the MVP award — and, after falling to the dreaded 2-seed in the AFC in 2021, the team earned their conference's top seed in 2022. Coincidence? I think NOT!
Whether it's pouring champagne all over cold fans following a big win, or complaining that referees never "favor" the Chiefs, any Brittany Mahomes sighting means bad news for the Chiefs both in reputation and on the field.

Perhaps this was Mayor Pureval's plan all along, to make a lighthearted and cringey jab at Patrick Mahomes just to make his wife turn up and destroy any hope the Chiefs had of winning. I know his name is Pureval, but that plan is PURE-genius…see what I did there? I'm so clever. I'm sure no one has ever made a similar joke in their lifetime.

That said, I don't disagree with all of Mrs. Mahomes' sentiments. Was it embarrassing? Yes. I mean, the Mayor even issued an apology to the city of Cincinnati, tweeting "Bengals nation, Lol. I hear you. My competitive juices and love for cincy [sic] got the best of me. My bad. Staying hungry and humble. See you Sunday. Who Dey baby!"
Was it weak though? Not at all. It's normal for people to acknowledge a dominance hierarchy when one is presented, and the Bengals have presented such a complex to the Chiefs ever since Burrow took over as the team's starting quarterback. It's not weak to address a trend. Rather, it would be weak to bend to a team that you've had no problem taking down. So, on that end, Mayor Pureval has the upper hand.
In regards to football though, I have to give the edge to Cincinnati as well. As I said, the return of Brittany Mahomes can only mean one thing: Misfortune for the entirety of Kansas City. I wouldn't be surprised anymore if the clock strikes zero at Arrowhead and the city of Cincinnati can be heard in the stands.