The best revelation of Super Bowl Opening Night is that Kansas City Chiefs tight end Travis Kelce would go Brennan Huff on his brother Jason's drums. Thank goodness the younger Kelce brought some spice to this Super Bowl matchup. A Step Brothers reference was much needed to break up this wholesome family affair.

Their mother, Donna, wearing a snazzy jersey combination that included both of her sons was both heartwarming and stylish. Somewhere the person in charge of fashion for You Got Served is heated after seeing that the two-toned Paul Pierce jersey from the movie could have been designed in a much better way.

On stage at Super Bowl Opening Night, she presented her boys Tupperware containers full of cookies, and also answered light-hearted questions about them by raising signs of their faces.
Just lovely. But when the Kansas City Chiefs had their individual opening-night sessions, a woman asked an important question to Travis. A question to which the world deserved to hear his answer. A question that was not distinguishable to the television audience when it was asked, but Travis heard it.
G/O Media may get a commission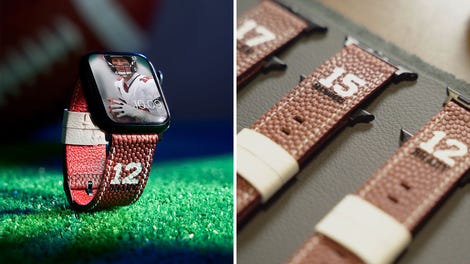 Official NFL PRODUCTS
Official NFL Apple Watch Bands
Touchdown!
MobyFox has partnered with the NFL Players Association to bring mega fans a series of hand-crafted Apple Watch bands crafted from authentic football leather. Choose from bands featuring Tom Brady, Patrick Mahomes, Mac Jones, Justin Fields, Josh Allen, and Dak Prescott.
His response: "I'd put my nuts on my brother's drumsticks for sure."

That type of insight is why media from across the world descend on the Super Bowl. Two All-Pro talents happen to be brothers and we don't want to hear that they love each other. They host a podcast together, so that's a given. Also, a professional athlete saying "nuts" in front of a massive media gathering will always be funny.

Those of us with siblings know that irritating each other is a source of entertainment. It's why parents spend so much time trying to diffuse conflict and blame the older sibling for getting baited into it by the younger one. Sure the older one should be smarter, but we're still all kids.

The fact that the youngest of the Kelce brothers jokingly said that he would rub his nuts on his brothers' beloved drums just like Brennan Huff (played by Will Ferrell) did to Dale Doback (John C. Reilly) in Step Brothers is worthy of a hearty laugh.
The audience needed a break from the hugging and compliments. If this is going to be the Kelce Bowl, then true realistic sibling interactions need to take place. During the time that siblings all live in the same building as children, the temperature changes in that relationship sometimes multiple times per day.

Thank you Travis for using a classic movie to remind us that you and Jason really are brothers.