Kyrie Irving is a basketball monkey paw. His hardwood alchemy can grant your ephemeral wishes on the court, but with dire side effects on your long-term team chemistry. Stick with him long enough and he'll deliver a plague to your franchise and refuse to get vaccinated afterward. If basketball were an individual sport, Irving would be Nick Kyrgios. A tantalizing talent, with a bizarre sense of entitlement, and a supremely selfish outlook in a team sport, but a skillset mesmerizing enough to distract you long enough to keep the shell game moving from city to city.
Dallas has been here before
Eight years after their regrettable Rajon Rondo trade, Dallas' quick thinking pushed them to the front of the Irving auction. Way back in 2015, the Mavericks tried to tame Rondo. During his nascent years in Boston, Rondo was a reliable distributor on those great KG-Pierce Celtics squads. After those veteran presences were traded, his nightmarish tendencies worsened and he was traded to Dallas.

He wound up ruffling so many feathers in half a season on the Mavericks that Rick Carlisle banished him during the postseason and his teammates voted against him receiving a share of their playoff bonuses. Rondo was a nuisance throughout stops in Sacramento, Dallas, and even early on in Los Angeles, but Irving is a Stage 4 terminal team cancer.

A Luka-Kyrie pick-and-roll could become an offensive dynamo, but it's never about the X's and O's with their wet dynamite point guard. Irving is a saga. Acquiring him was the ultimate damned-if-you and damned-if-you-don't scenario. The pursuit of a ring hasn't been this wide open in years, which is why a select few risk-takers sent tangible offers to Brooklyn.

G/O Media may get a commission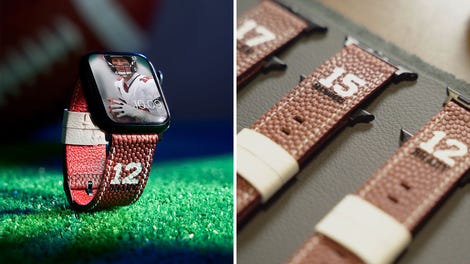 Official NFL PRODUCTS
Official NFL Apple Watch Bands
Touchdown!
MobyFox has partnered with the NFL Players Association to bring mega fans a series of hand-crafted Apple Watch bands crafted from authentic football leather. Choose from bands featuring Tom Brady, Patrick Mahomes, Mac Jones, Justin Fields, Josh Allen, and Dak Prescott.
Kyrie wanted to join the Lakers
The Los Angeles Lakers, Phoenix Suns, and Los Angeles Clippers reportedly all spent their weekends trying to hammer out deals for the haunted point guard. But they shouldn't feel too bad about falling short. NBA history is full of what-ifs and anybody who's even seen a horror movie knows the lucky ones are always the reluctant friends who opted out of a weekend in the haunted cabin, deserted hills, or down at Crystal Lake. Everyone else thinks they're made of different stuff though.
The Lakers were reportedly at a disadvantage in trade talks due to Nets Governor Joe Tsai's apparent desire not to comply with his tormenter's request to play in Los Angeles. Reportedly, the Nets would have accepted an offer from the Lakers though if GM Rob Pelinka had spiced their offer of Russell Westbrook and two firsts with Max Christie and Austin Reaves, in addition to a promise from Irving to sign a two-year extension after the trade. As unstable as Irving is, that trade would have been more than worth it for the Lakers. They're on a clock with James to win a title in the next two or three years and Irving would have been a short-term elixir to what ails their offense. Understandably, James saw Irving as his golden ticket to a fifth title–maybe more and in the aftermath of Irving's trade to Dallas, James bawled on Twitter.

To James' credit, he's the rare team talisman who's exhibited the capacity to mitigate the worst tendencies of Irving and the aforementioned Rondo. Like Rondo, Irving shows deference to his elders like Kobe and LeBron. Conversely, he will be among the most experienced players on these Mavs. The oldest vet in that locker room? JaVale McGee. As an elder on the Mavericks, who's going to rein Irving in though? Christian Wood? Luka? Tim Hardaway Jr.? JaVale?!

Remember the infamous question about James' "parental" role on the Cleveland Cavs? Father figure might be too much of a stretch, but babysitting teammates would be a necessity. A Udonis Haslem locker room figure would have done the job. Instead, the Nets shipped off point guard Spencer Dinwiddie, who was a respected locker room voice, and gave the keys over to Irving. He was too chummy with the passive Kevin Durant to ever dilute his ego to appease the unit. All Durant did was hotbox before shelling out zen-like quotes about trusting Irving, being his friend, and wasting his prime years before being left to hold the bag.

What the Phoenix Suns offered
New Phoenix Suns owner Matt Ishbia and President of Basketball Ops James Jones put themselves out there for Irving by offering Jae Crowder, a first-round pick, and Chris Paul. Paul, who was once the ideal point guard would have been a tough piece to part with, but as he approaches 40, he's nearly a dusty artifact. In the end, Brooklyn's request for three firsts was too rich for Jones to surrender for an expiring contract and flammable asset.

Ironically, the surly Paul may have been the rare vet capable of keeping Irving in line. The Suns' offer was a lose-lose because they'd be giving up the only antidote in exchange for the pox. Devin Booker, Irving, and the disgruntled Deandre Ayton on a Monty Williams-coached team is a petri dish to complete the former Nets point guard's metamorphosis into a fully gestated contemporary Stephon Marbury reboot. Phoenix already went this route two decades ago in between their blonde Jason Kidd and Steve Nash era.

What the Clippers offered
The Athletic's Law Murray and The Ringer's Kevin O'Connor reported that the Clippers made an offer including Luke Kennard, Terance Mann, one future first and two first-round pick swaps, plus filler to compensate for the disparity in salaries being exchanged. While Clipper Kyrie has a ring to it, three injured stars who never play together would have essentially been the 2021 Brooklyn Nets. In fairness, that team came inches away from an NBA Finals trip and Irving would have been reunited with Tyronn Lue, whom he won a title with in Cleveland.
Health is a peripheral cause of Irving's frequent unavailability. In three seasons, he and Durant only played 74 games together and a trade to L.A.'s other team would have simply created a new star-crossed trio. The Dallas Mavericks may have won the battle for Irving's talents, but once the FOMO adrenaline rush subsides, they'll breathe a sigh of relief after witnessing another Irving slasher sequel from a safe distance.