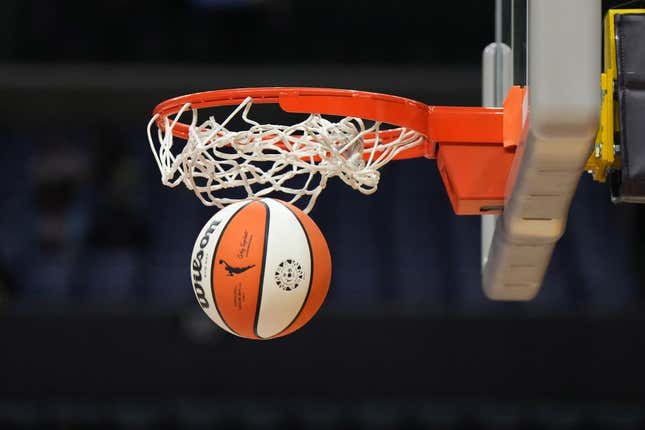 Elena Delle Donne returned from her brief injury absence to score a team-high 21 points and guide the Washington Mystics to a home upset of the league-leading Las Vegas Aces 78-62 on Saturday night.
Which NFL QB will be the first one benched? | Agree to Disagree
Ariel Atkins added 16 points, including three critical 3-pointers in the third quarter that gave Washington (16-18) some control. Brittney Sykes added 14 points and six assists as the Mystics ended a two-game losing streak.
Kelsey Plum scored 21 points for the Aces (30-5), who were held to a season-low 30.8 percent field-goal shooting and their second-lowest point total. A'ja Wilson had 14 points and 11 rebounds, and Jackie Young added 10 points.
Las Vegas has lost two of its past four games but still owns the No. 1 seed in the WNBA standings. On Thursday, the Aces broke the league record for most wins in a regular season when they beat Chicago.
Delle Donne, back after a hip injury sidelined her for two games, scored the first four points of the game to fuel Washington to an early 13-2 advantage. The Aces trimmed their deficit to 19-17 by the end of the first period.
Young scored an old-fashioned three-point play and a 3-point jumper to put the Aces up 23-19 while Washington started the second quarter on a 3:54 scoreless drought. Plum sank a 3 and a free throw during the final minute to give the Aces a modest 30-27 halftime edge.
Las Vegas shot just 10-for-30 from the field and 3 of 16 from 3-point range in the half, but Washington was even colder, going 8-for-32 overall and 0-for-13 from the arc.
Atkins made the Mystics' first 3-point attempt of the second half to end that drought. Near the end of a quarter that featured five lead changes and four ties, Atkins made two more triples in a 27-second span to help Washington lead 52-48 after three.
Natasha Cloud's defensive rebound and bounce pass to Sykes for a layup launched a 6-0 Mystics run to make it 63-52 with 5 minutes to play. Tianna Hawkins drilled a corner 3 to give the Mystics their largest lead at 66-54 with 3:04, and the game was in hand the rest of the way.
The Mystics finished 40 percent from the field and 7-for-26 shooting from the arc.
—Field Level Media