No one comes up with a solution for a problem that doesn't exist quite like MLB. It's their specialty.

On Monday, MLB's competition committee decided to keep the zombie runner (or Manfred Man) in extra-innings permanently. This is a dumb rule that warps regular season results, much like the 3-on-3 overtimes and shootouts in hockey. Except that there isn't a consolation point for baseball teams. You just win or lose, possibly based on a runner you never let on in the first place. The idea of baseball is one team trying to get players around four bases while the other prevents it. This is not it. It's just a gimmick.
While it's easy (and fun!) to pin this at the feet of Manfred, as he's been the author of so many anti-baseball actions since he slithered into the Commissioner's office, this is also on the players. They wanted this too, and neither side bothered to check out that fans don't care for it in the least. Maybe some players will start to bitch when one team goes out of the playoffs on it, though getting baseball players to make that sort of connection of multiple events is a Herculean task.
Players don't like having five-hour games, but they were such a rare occurrence in the regular season that it's really worth wondering if it's worth warping the regular season, even slightly, to avoid them. Both the owners and players couched this in player health, but that's horseshit.
They don't want a middle reliever having to throw four or five innings when a game goes long, but any pitcher should be able to do that once in a season. The one saving grace, I guess, is that pitchers were almost always sent down after such an outing, because he'd be burned out for days, so at least that guy might keep earning an MLB paycheck instead of a AAA one for 10 days.
G/O Media may get a commission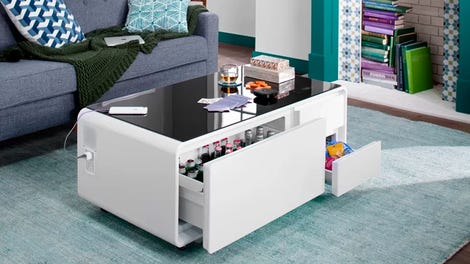 33% off
Sobro Smart Coffee Table
The coffee table of the future.
It's a coffee table with a fridge, high-quality Bluetooth speaker, LED lights, and plenty of outlets to spare.
The committee at least made middle relievers every so fractionally less protected species when they also put in rules about when position players can pitch. It had become a farce in recent years how often managers would opt for that, because god forbid they have to waste an inning in a blowout on an actual pitcher. Every fan certainly pays money for the guys who throw 60 pitches a week. But hey, the NFL has tightened the rules around tackling a quarterback so they can shine, the NBA opens up the lane so its stars can drive, and even the NHL has cracked down on holding and grabbing so that the Connor McDavids of the world can rack up 130 points, so MLB is only following suit by making sure middle relievers are ready to go. Anyway, this is one rule that's in the right direction, because position players pitching had become seriously annoying.
It's still pawing at the problem. What these dance around is that MLB really fears that with the number of pitchers who can throw 112 out of the pen (except the Cubs) that teams can more easily drag out games into extras with a ton of strikeouts. Basically, making Game 3 of the Astros-Mariners series a more common happening. But baseball still isn't doing anything to address that, like by moving the mound back to reduce velocity. They may think the shift will help, but hitters aren't likely to make all that much more contact when they're facing corralled comets from 60' 6".
But at least the second baseman won't be lobbing up eephus pitches as often this season.
Canada Soccer is screwing over both its teams
The SheBelieves Cup kicks off this week, with the USWNT getting perhaps their last look at quality opposition before the World Cup this summer. But they're not the big story now, thanks to Canada's women's team attempting to go on strike before the tournament and being forced back onto the practice field and into the tournament when Canada Soccer threatened legal action if they did strike.
The problem stems from Canada Soccer cutting their budget, forcing the roster to be shorter and the support staff as well for this very tournament among other problems. They even wanted the women's team to play no warm-up games before the World Cup in July.
It's not exclusive to the women's team, as the men's team boycotted a June friendly due to shortages and cuts to their budget and schedule. All of this germinates from what appears to be a horrible piece of business, when Canada Soccer sold media rights and sponsorships to Canadian Soccer Business, an entity owned by the owners of the Canadian Premier League clubs (don't worry if you haven't heard of that league, no one else has either). It's not unlike the deal that U.S. Soccer used to have with its own separate media entity, along with MLS.
Basically, Canada Soccer is only getting a flat fee from CSB every year, even with the rising popularity and success of both its senior teams. The women won the Olympic Gold in 2021, and the men qualified for their first World Cup in 2022. That means their broadcast rights and sponsorships should be going up, but Canada Soccer isn't seeing any of that rise thanks to this boondoggle.
Both teams want the deal torn up, and the proper amount of funding restored not to just their teams but all the youth teams that have been clipped as well. With the women heading to the World Cup in five months, and the men hosting the next World Cup (and possibly being in the Copa American in 2024), their worth will only go up. Canada Soccer clearly can't meet the demands that these teams have earned through this awful deal with CSB, and their playing staffs have made it clear they aren't going to wait around.