Ethiopian misses her own world record by five seconds in Valencia as event is marred by start line pile-up
Yalemzerf Yehualaw ran a sizzling 29:19 at the Valencia 10km on Sunday (Jan 15) to miss her world record by five seconds as Weldon Kipkirui Langat took the men's race in 26:55.
Behind, though, there was chaos at the start as runners fell and then scrambled over each other in an early-race pile-up.
The incident was caused, it is believed, by sub-31min competitors being brought to the start line while faster elite athletes were still warming up. When the elites then arrived, the sub-31min runners were pushed back, leading to a bottleneck of runners in a narrow and congested starting area.
More on the start line chaos at the Valencia 10km. https://t.co/chXBKQl2WJ

— AW (@AthleticsWeekly) January 15, 2023
It only took one runner to tumble and then others went down like skittles. Up ahead, though, Kipkirui Langat stormed to a narrow victory ahead of fellow Kenyans Charles Kipkirui (26:57) and Daniel Tumaka (27:01) with world 5000m silver medallist Jacob Krop fourth in 27:04.
It meant Rhonex Kipruto's 26:24 world record – set at this event in 2020 – survives.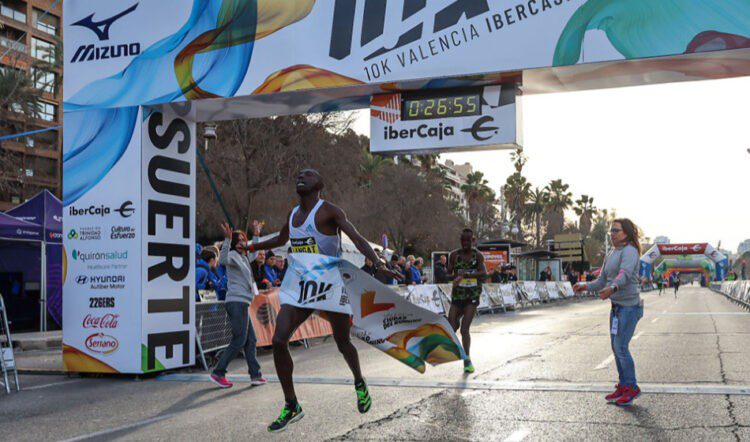 All eyes were on Yehualaw, though, as the Ethiopian sped through 5km in 14:47 before coming home in 29:19 to just miss the 29:14 world record she set in Castellón, Spain, 11 months ago.
Nevertheless it was the second fastest time in history from an athlete who is aiming to defend her London Marathon title in April.
Kenyans Jesca Chelangat and Esther Birundu were second and third in 30:01 and 30:15.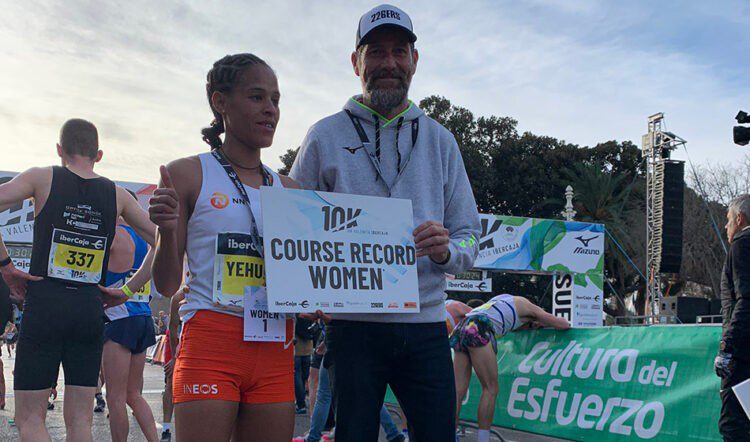 Harrison impresses among Brits
Samantha Harrison proved the pick of a large group of Brits in Valencia as she sliced 19 seconds off her PB to run 30:51 in fifth place.
It moves her up to No.4 on the UK all-time rankings, leapfrogging Jess Warner-Judd, who coincidentally races on the same day in Houston.
Elsewhere among the Brits, Amelia Quirk was 11th in 31:53, Steph Twell 14th in 32:28, followed by Lucy Reid 32:56, Elle Twentyman 33:37, Helen Hall 33:49, Gemma Kersey 34:04 and Verity Hopkins 34:31.
Andy Butchart was the leading British man in 19th in 28:07 (just missing his 28:05 PB from Manchester last year) followed by Zak Mahamed 23rd in 28:26, Jonny Davies 27th in 28:41, Joe Wigfield 30th in 28:44, Mahamed Mahamed 33rd in 28:47, Jacob Allen 34th in 28:47.
Further behind, Ellis Cross and Calum Johnson clocked 28:52, Alexander Lepretre 28:53, Phil Sesemann 28:56 and Ian Crowe-Wright 29:02. However, it is not known how much the start line melee affected the Brits.
Efrem Gidey, who fled war-torn Eritrea to now represent Ireland, also impressed with a 27:57 PB in 13th.
The day began with a 5km race which was won by Olle Hlberg (14:07) and Paula Herrera (16:12).
Full results here.
» For more AW news, CLICK HERE
» Subscribe to AW magazine here
Subscribe to the AW Newsletter