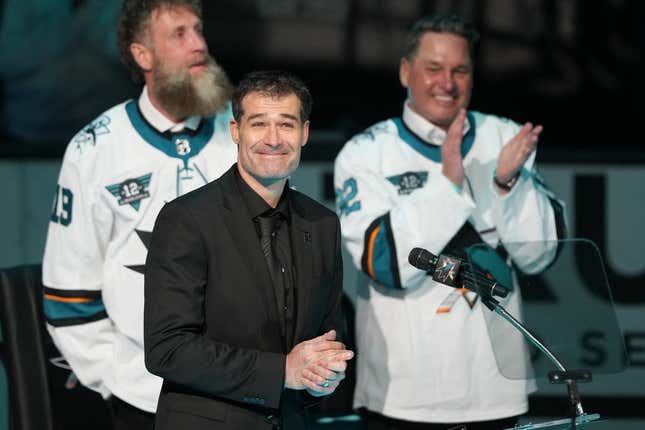 Four months after retiring his jersey, the San Jose Sharks welcomed back Patrick Marleau in a coaching and advisory capacity on Friday
The Legacy of Jim Thorpe | Joe Pantoliano's Ultimate Sports Fantasy
Marleau, 43, the NHL's all-time leader in games played, will serve as a player development coach and a hockey operations adviser.
The three-time All-Star center will work with the on-ice development of Sharks and San Jose Barracuda prospects and also will work closely with general manager Mike Grier and his staff
"I'm extremely excited to be officially back as part of the Sharks organization," Marleau said. "I'm looking forward to working with our players on the ice to help them reach their full potential and sharing the knowledge I have garnered from playing 23 years in the National Hockey League. I'm also eager to work with Mike and his staff, and to continuing to learn about the game and business side of hockey.
The Sharks retired Marleau's No. 12 jersey on Feb. 25, 2023, making him the first player to receive the honor in franchise history
Marleau played 1,607 of his record 1,779 games for the Sharks, who selected the Saskatchewan native with the No. 2 overall pick in the 1997 NHL Draft
He is the franchise's career leader in a number of statistical categories, including goals (522) and points (1,111).
"It's rare that you get the opportunity to add someone to your organization that brings a level of talent and character like Patrick Marleau," Grier said. "As one of the top players of his generation, Patty possesses an unlimited wealth of institutional knowledge about the game. Perhaps more importantly, he was a cornerstone piece in the Sharks becoming one of the NHL's most dominant franchises over the last two decades and knows what it takes to win and succeed in the NHL. We are extremely happy to bring Patty back into the Sharks family as we continue building a team that our fans can be proud of.
Marleau had 1,197 points (566 goals, 631 assists) with the Sharks (1997-2017, 2019-21), Toronto Maple Leafs (2017-19) and Pittsburgh Penguins (2020). He also had 72 goals and 55 assists in 195 career playoff games, which included a run to the Stanley Cup Final in 2016
–Field Level Media