Laura Muir, Josh Kerr and Neil Gourley in brilliant form at the 115th Millrose Games in New York
It was quite a night for Scottish runners at the 115th Millrose Games on Saturday (Feb 11). Laura Muir sealed an historic Wanamaker Mile title with a blistering finish. Josh Kerr went No.3 on the UK all-time 3000m rankings with a commanding victory. Neil Gourley finished runner-up behind Yared Nuguse's US record in the men's Wanamaker Mile but his sub-3:50 performance puts him No.2 on the UK all-time lists.
One week after winning the 3000m at the New Balance Indoor GP in Boston, Muir took to the track in New York chasing a Wanamaker title to go with her 5th Avenue road mile crown from last September. The European champion went with the pace through 800m in 2:08.89 but then relinquished the lead before rallying on the final lap to see off Josette Andrews (née Norris) (4:20.88).
The UK mile record of 4:17.88 held by Jemma Reekie survived. Reekie finished a disappointing ninth in this race too.
Katie Snowden, however, excelled with an English record of 4:21.19 as she tried to keep up with the flying Scotswoman.
Earlier in the night Kerr had made his 2023 racing debut with an impressive 7:33.47 win in the 3000m ahead of Luis Grijalva of Guatemala (7:33.86) and American duo Joe Klecker (7:34.14) and Cooper Teare (7:34.70). Such was the quality of the race, the 2022 Millrose winner Geordie Beamish ran a New Zealand record of 7:36.22 in sixth.
Content to hang back in sixth place as the leaders passed 1km in 2:31 and 2km in 5:06, the Olympic 1500m bronze medallist moved up ominously in the latter stages before really letting rip on the final lap.
Kerr broke Andy Butchart's Scottish record of 7:37.42 and now sits No.3 on the UK rankings behind Mo Farah and Sam Atkin's recent UK record of 7:31.97.
The flying Scotsman 🏴󠁧󠁢󠁳󠁣󠁴󠁿 🚂

Josh Kerr enjoys a big 7:33.47 win over 3000m at the Millrose Games. pic.twitter.com/vPov1Tdg4n

— Jason Henderson (@Jason_AW) February 11, 2023
Amusingly Kerr also took more than a minute off his rather dated PB too (although he did run 8:08.37 during a 5000m two years ago). On a more serious note it shows the 25-year-old's training has been going well this winter with his Brooks Beasts group and, after a disappointing 2022, he will be looking to get back on a global podium in Budapest this summer.
Such is the standard of British miling right now, though, it be difficult to simply make the team for the World Championships later this year. This was shown in the final event of the night, the men's Wanamaker Mile, as Gourley clocked 3:49.46 to go ahead of Peter Elliott's 3:52.02 and just behind Kerr's 3:48.87 on the UK all-time rankings.
Gourley had to settle for second place in this race, though, as Yared Nuguse, who had set a US 3000m record of 7:28.24 the previous week, ran away from Gourley and Commonwealth champion Olli Hoare on the final lap to run a North American record of 3:47.38 – a time that also places him No.2 on the world all-time rankings behind Yomif Kejelcha's 3:47.01.
"After that 3000m, I was feeling pretty confident already," said Nuguse, "but to do this in the event that I love the most and the one that I feel like I'm going for at the world championships, that makes me feel even better."
Hoare was third in 3:50.83 – equalling his Oceania record – and Sam Tanner of New Zealand fourth in 3:51.70.
The strength in depth was superb although elsewhere on the same day it's worth mentioning that an incredible 53 men broke the four-minute barrier at the Valentine Invitational in Boston.
There were more records as well at Millrose as Alicia Monson took down Karissa Schweizer's US indoor 3000m mark with 8:25.05. "I was just trying to squeeze it all and I got it by a couple of tenths," said Monson, who also ran a world lead.
Alicia Monson runs a US indoor 3000m record of 8:25.05 at the Millrose Games.

Behind, Katelyn Tuohy clocks a US collegiate record of 8:35.20 as the action in New York gathers pace. #MillroseGames pic.twitter.com/C0FPCheNNk

— AW (@AthleticsWeekly) February 11, 2023
Runner-up Whitni Morgan clocked 8:30.13 while Katelyn Tuohy ran a US collegiate record of 8:35.20 in third.
In the field, Ryan Crouser (22.58m) and Chase Ealey (20.03) won the shot put contests at the Millrose Games with world-leading marks and Crouser even trying out a new technique he has been honing this winter where he adds an extra step into his spin.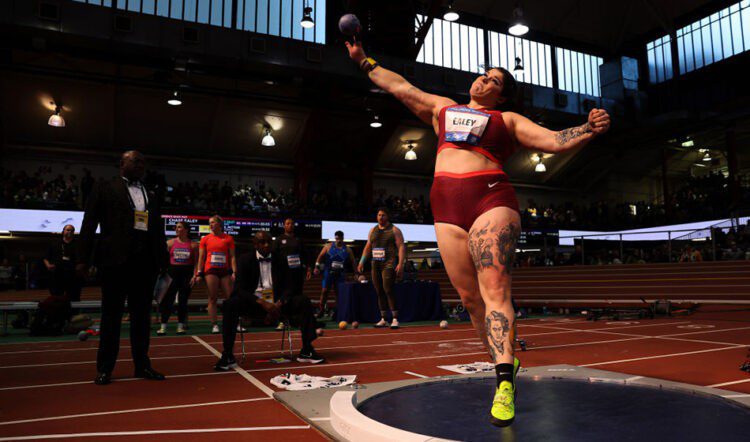 Katie Moon (née Nageotte) took the women's pole vault with 4.81m. It was a good turnaround of form for the Olympic champion after she had placed only fourth in Boston the previous weekend.
Christian Coleman took the men's 60m in 6.47 but only after a delay that saw fellow American Noah Lyles firstly penalised for a false start before the world 200m champion decided to run under protest, eventually finishing runner-up in 6.53. Both men remain overshadowed this weekend by Trayvon Bromell, however, who ran 6.42 at the Tiger Paw Invitational a few hours earlier.
The women's 60m was more straightforward as Aleia Hobbs of the United States continued her fine form this winter with a 7.04 win.
Abby Steiner clocked a US indoor 300m record of 35.54 although she had to work hard to pass Brittany Brown in the home straight, Brown tying up in the final metres to run 36.13. "It's so great doing it at The Armory as it's such a great atmosphere," said Steiner, who went No.3 on the world all-time rankings behind Irina Privalova and Shaunae Miller-Uibo.
Kenyan teenager Noah Kibet ran a world lead in the 800m with 1:44.98 from Isaiah Harris' 1:45.64 as Britain's Kyle Langford was fourth in 1:46.98. Bryce Hoppel, one of the leading contenders, jogged home in 1:54.43, though, after being baulked mid-race.
Millrose regular Ajee' Wilson enjoyed another win at this historic meeting as she clocked 1:24.85 in the 600m.
Full results, click here
» Subscribe to AW magazine here