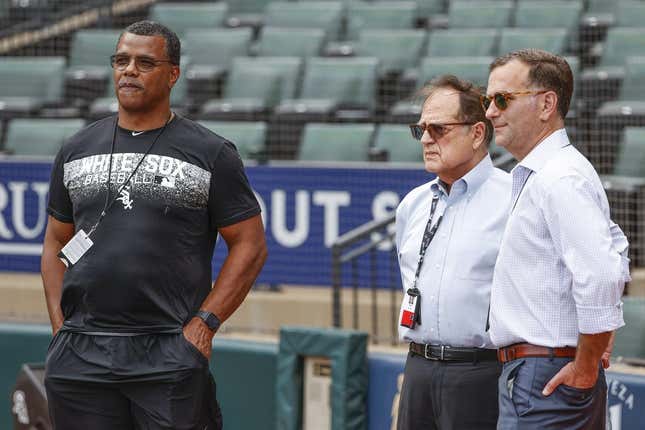 The struggling Chicago White Sox fired two longtime front-office executives on Tuesday, relieving executive vice president Ken Williams and senior vice president and general manager Rick Hahn of their duties.
How A Coffee Brand Scaled Up Its Business & Scored A Partnership With The NBA | Securing the Bag: Part 2
Williams had been Chicago's general manager for 2001-12 before moving into the executive VP role. Hahn joined the White Sox in 2000 as the assistant general manager and was promoted to GM in 2012 to replace Williams.
Both helped build the 2005 White Sox club that won the World Series.
The team said in a news release that it will search for "a single decision-maker to lead the baseball operations department" with the goal of making a hire by the end of the 2023 season.
"This is an incredibly difficult decision for me to make because they are both talented individuals with long-term relationships at the White Sox," White Sox chairman Jerry Reinsdorf said in a statement. "Ken is like a son to me, and I will always consider him a member of my family. I want to personally thank Ken and Rick for all they have done for the Chicago White Sox, winning the 2005 World Series and reaching the postseason multiple times during their tenures. I have nothing but the greatest respect for them as people and appreciate the commitment and passion for the White Sox they exhibited over the years."
The White Sox entered Tuesday's game against the Seattle Mariners with a 49-76 record, a distant fourth place in the American League Central. They won the division in 2021 but fell short of lofty expectations last year, finishing 81-81 and missing the playoffs.
"Ultimately, the well-worn cliche that professional sports is results-oriented is correct," Reinsdorf said. "While we have enjoyed successes as an organization and were optimistic heading into the competitive window of this rebuild, this year has proven to be very disappointing for us all on many levels. This has led me to the conclusion that the best decision for the organization moving forward is to make a change in our baseball department leadership."
—Field Level Media