Stunning women's world 48-hour record for British athlete as she runs over 400km in stifling conditions and also beats UK men's record
Jo Zakrzewski set a world 48-hour record at the Taipei 24-Hour event with a final distance of 411.458km/255.668 miles, writes Adrian Stott.
This added almost 8km to the previous world 48-hour mark.
She achieved the total by running 654 times around a 0.6282 kilometre lap of Huabo Freshman Park in the Taiwanese capital.
The 47-year old GP from Durham is currently based in Australia and is only the second woman to break the 400km/248.5 miles barrier in a 48-hour event.
Patrycja Bereznowska from Poland, the former world 24-hour champion and Spartathlon winner, was the previous world record-holder. She recorded 403.320km on February 15 last year in Pabience, Poland.
The Polish runner was also in the Taipei race and finished second woman and fourth overall with 373.138km.
The previous British women's record was 366.512km by Hilary Walker. That distance was run over 35 years ago in Blackpool in November 1988, where she was the overall race winner.
Zakrzewski's final distance also betters the existing British men's record. That distance was set by Richard Brown in Surgeres, France, in May 1991, when he ran 401.548 km.
The Greek legend Yiannis Kouros has the men's 48-hour mark which was set in 1996 and stands at 473.49km/294.216 miles
Zakrzweski's splits were: 42km in 3:53:46, 50km in 4:40:09, 100km in 9:25:46, 100 miles in 16:04:16
6-hours in 64.705km, 12-hours in 127.525km, 24-hrs 236.203km and 48-hours 411.458km (covering 175.255km and 108.898 miles on the second day.)
She now holds British records at both 24 and 48 hours.
Zakrzewski has been a regular in British ultra teams teams since making her GB debut at 100km in 2011. As well as several individual and team medals at major ultra championships, she has a highest placing of fourth at the Comrades.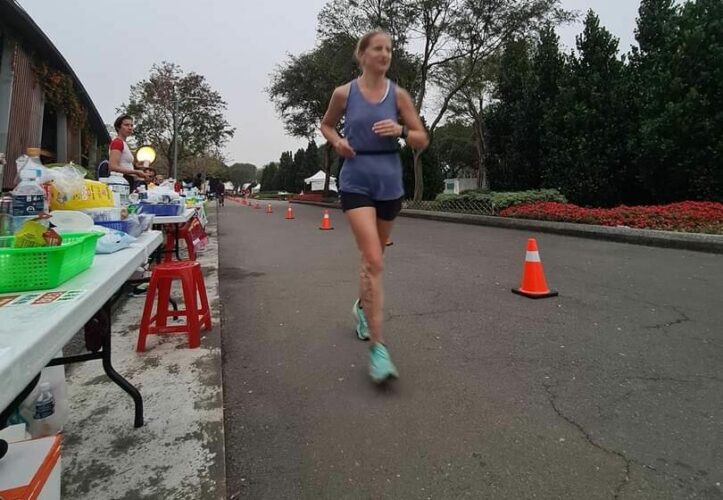 She said: "The World 24 Hour Championship are scheduled to be held in Taiwan in December this year. I was originally just thinking it would be a nice recce trip for that but then again thought why not try a low key 48-hour?
"I had checked with Adrian beforehand and there was no recorded Scottish road 48-hour record for women, so whatever I ran would be a record."
Remarkably, she admits her preparation could have been better.
"I maybe wasn't as prepared as all the other runners for a 48-hour, as everyone else flew out with crew and I just came solo and was allocated local volunteers on rotation to help me but some had better English than others, and it's all rather hard through masks!
"As time went on, I thought I could cheekily go for the Scottish men's record (355.312km /220.786 miles, set in 1988 by the late Jimmy Shaw). After, that it escalated to the British record. (Walker's 366.512km /228.815 miles set in the same race as Shaw in 1988).
"Suddenly people told me, if I could hold things together I could break the outright women's world record."
She admitted: "I didn't sleep at all for the 48 hours but in the later stages I was sitting down for five-minute
breaks every hour to pour water over my head to cool down and ensure I ate and drank something."
Zakrzewski found other things made it an even more memorable occasion. "It makes it even more special having the former record holder from Poland (Patrycja) in the race, as was the Japanese lady who held the record before her and I've also been told that nobody had even broken 400km in Taiwan before."
The weather made it an even greater achievement. "Even more surprising were the conditions as Patrycja told me that the conditions were ideal when she broke her record, but we spent a lot of this run moaning about the Taiwanese weather. We started in pouring rain, then overnight it was 90% humidity, the next day was 88% humidity and then the final day was bright sunshine and 28 degrees!"
Results:
1 Jo Zakrzewski GBR (W45) 411.458km
2 Filipov Iulian (M35) 400.514km
3 Bartosz Fudali (M35) 397.619km
4 Patrycja Bereznowska (W45) 373.138km
» Adrian Tarit Stott, the author, is an experienced ultra runner and current member of the UKA Ultra Running Advisory Group, URAG
» For more recent results, CLICK HERE
Subscribe to the AW Newsletter