Adam Thomas clocks 6.56 to win men's 60m as national titles and world spots are decided at UKA Indoor Champs
The first day of the UK Athletics Indoor Championships saw the sprinters come to the fore as national titles were won and places booked on the team bound for next month's World Indoor Championships in Belgrade.
Both the men's and women's 60m events provided fireworks on Saturday (Feb 26), with Adam Thomas lowering the UK lead to 6.56 to take gold and Cheyanne Evans-Gray seizing her chance to win the first major title of her career.
Before the event, defending champion Andrew Robertson had shared the UK lead with Charlie Dobson on 6.59, but news of the latter's withdrawal came as a disappointment to the crowd at the Utilita Arena Birmingham.
It proved to be a top quality competition, however.
European U23 champion Jeremiah Azu enjoyed a moment to savour and threw down the gauntlet in the semi-finals, clocking 6.56 as Robertson also ran inside the Belgrade qualifying standard of 6.60 with a season's best of 6.59. Thomas was showing form, too, the 2019 silver medallist equalling his PB of 6.61 to progress.
He shattered that mark in the final, not only holding off Robertson (6.58) but breaking the Scottish record. Azu took bronze in 6.61.
"I'm over the moon," said Thomas. "I really didn't think I had won at the end – it was really all on that last stride.  I think I just out-dipped Andy on the line.
"To know I am going to Belgrade is beyond my wildest dreams. I cannot wait to be in the British team – my first time – and receive the kit and British vest, I will be so proud."
With the likes of UK leader Daryll Neita, championship record-holder Asha Philip and defending champion Amy Hunt missing, it was Evans-Gray who stormed through to take women's gold.
Fastest to qualify from the semi-finals, with a run of 7.25, the 23-year-old matched that time exactly in the final to seal her Belgrade spot. Alisha Rees lowered her Scottish record with 7.31, marginally outside the world indoors qualifying standard, for second while Kimbely Baptiste took bronze with 7.33.
"I'm not surprised and I trained for this," said Evans-Gray, who is coached by Nat Senior. "My weakness is my top end speed so I've been working a lot on that and I feel like I'm in the shape that I was in two years ago. I've changed my coach so that's a big difference."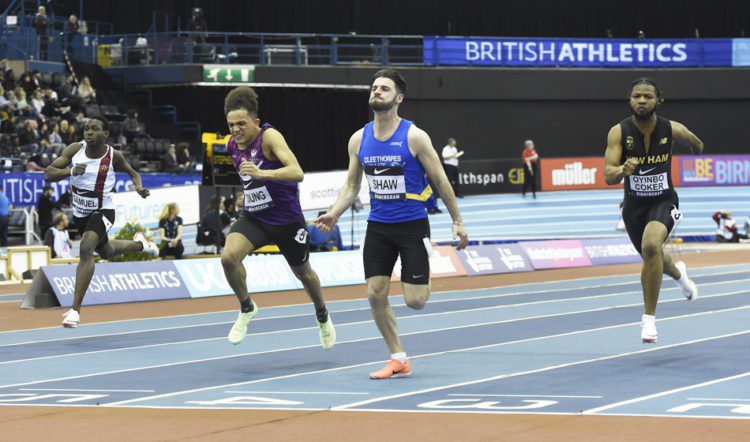 The Para Mixed Ambulant 60m sprints saw Zac Shaw break the T12 British record for the second time within the space of a week as he ran under seven seconds for the first time by winning in 6.98.
He came home ahead of T38 100m Paralympic champion Thomas Young (7.04), while there was a PB of 7.15 for Emmanuel Oyinbo-Coker.
In the women's sprint, the T38 Paralympic champion Sophie Hahn won in 8.11, precisely the same time with which she won the Müller Indoor Grand Prix seven days previously. She came home ahead of T20 athlete Faye Olszowka (8.30), with Esme O'Connell third in a PB of 8.39.
The other champion to be crowned on the sprint straight was Megan Marrs, whose 60m hurdles victory was a particularly emotional one.
She clocked a season's best 8.15m to come ahead of Holly Mills (8.20) and Alicia Barrett (8.23) before dedicating her gold medal to her late cousin.
"I lost my cousin at Christmas which meant I took a bit of time out. This one was for her," she said. "I knew I just had to win."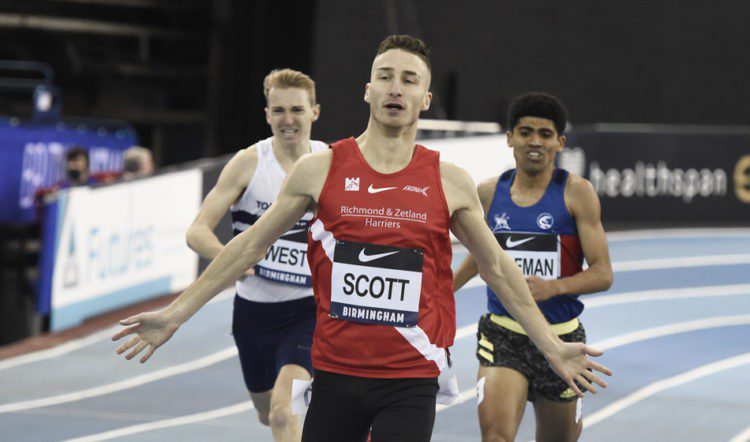 Scott edges Coleman for 3000m gold
The only distance final of the day produced a 3000m men's contest which ebbed and flowed but ultimately saw Marc Scott book his Belgrade place.
The European 5000m record-holder was content to sit in while Ossian Perrin took the field through 1000m in 2:45.45 and then Tom Mortimer led at 2000m in 2:43.75.
Jamaine Coleman then forced the issue in the closing stages but Scott's kick came to the fore as he clocked a season's best 7:53.35 to secure the gold, just ahead of Coleman's 7:53.92. James West was third in 7:53.95.
"I wanted to control it out there and ensure I booked my ticket on the plane," said Scott. " It can get really messy with 16 guys on a 200m track indoors so I was keen to stay out of trouble at the front. I know I have a good kick at the end so I knew I could get back in the last 200m when (Coleman) took the lead. I knew I had it in me.
"My plan was to make it to Belgrade and I am confident I can go out there and do well.  I know the guys I'll be running against and I have seen where they are at and I do feel I have a good chance of a medal."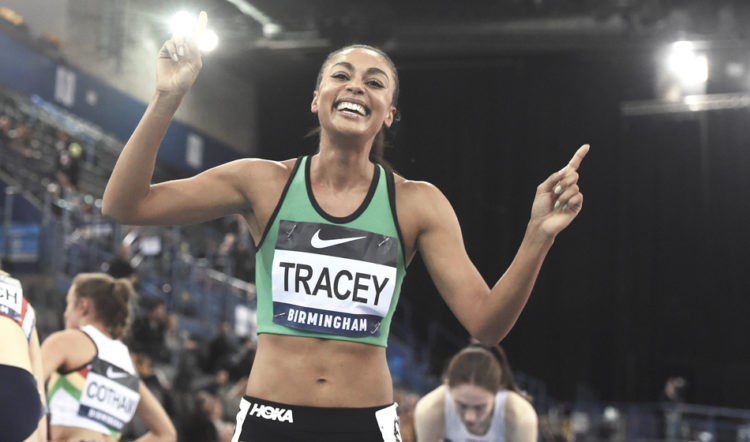 Tracey takes first 1500m title
Before these championships Adelle Tracey's only other British Indoor title had come six years ago in the 800m. Stepping up to the 1500m as part of her training, she had arrived in Birmingham in good form with second and third places at recent World Indoor Tour events.
Here, she timed her run to perfection to land her first major honour at the longer distance.
European indoor silver medallist Holly Archer had led the way until she was overhauled by Erin Wallace with around 300m to go, Tracey lurking on her shoulder.
The Guildford and Godalming athlete put in a surge on the back straight which proved decisive as she reached the line in 4:13.14.
"Being British champion feels really good," said Tracey. "To step up in distance to do it indoors feels great.  It has been a while. The World Indoors wasn't really a target for me, hence why I stepped up to the 1500m. I am in the middle of a big training block and I want to head into the outdoors with a little left in the tank."
Wallace, second in 4:14.72, does have the qualifying standard, while Archer took bronze in 4:18.36.
The men's 1500m final takes place on day two and Piers Copeland won the opening heat in 3:45.03, joined by Michael Wilson (3:45.32) and 3:45.39 from defending champion George Mills.
Charlie Da'Vall Grice progressed from heat two in 3:47.10, alongside a PB of 3:47.58 from Simon Coppard and the 3:47.71 run of Neil Gourley.
Exciting 400m and 800m finals in store
Keely Hodgkinson, who had broken the British 800m record seven says previously, has opted to run the 400m here, with one eye on also being part of the 4x400m relay squad in Belgrade. This is the first indoor 400m competition of her career and she lowered her outright PB for the distance in winning the first semi-final in 52.45.
Hannah Williams also went through in a PB time – 52.58 – but it was defending champion Jessie Knight who qualified fastest with 52.07 in winning the third semi-final.
Alex Haydock-Wilson qualified fastest from the men's semis in a PB of 46.57, the second semi going to Ben Higgins with a PB of 46.71, while Thomas Somers won the third semi in 46.95.
Defending champion Guy Learmonth was fastest in qualifying from the men's 800m heats, progressing safely with 1:49.43. Archie Davis was second-fastest, winning heat one in 1:50.32, while British record-holder and UK leader Elliot Giles won heat two in 1:50.60 and  Ben Greenwood was the other heat winner in 1:50.80.
There was a surprise in the women's 800m heats when a fall in heat one saw Isabelle Boffey unable to progress. The European U23 champion got up to finish fifth, with Gemma Finch winning the race in 2:08.08. Jenny Selman qualified fastest after winning heat two in 2:05.92, while Olympic finalist Jemma Reekie comfortably won heat three in 2:07.29.
A first for Okome, three in a row for Metzger
There was a big contrast in the triple jump competitions as the men's event saw a surprise being sprung by Seun Okome, while Naomi Metzger won her third successive British indoor title.
Okome was the first gold medallist of the weekend as he managed to find a standard he had previously not reached.
Never before had he gone come higher than sixth in a national competition and never before had he leapt beyond 16m. He set about changing all of that with a fifth-round leap of 16.13m which was a PB by 16cm and overtook the second-round 16.05m of Olympian Ben Williams, who injured himself on his final jump. Jude Bright-Davies' PB of 15.91m brought him the bronze medal.
"I've been waiting for this for a long time," said Okome. "It's a start for me and I can push a bit further. The distance means more to me than the medal and I've finally gone over 16m."
Metzger, meanwhile, was in control of the women's competition and her biggest jump, 13.81m, came in the fourth round.
Emily Gargan took silver with a PB of 12.69m while there was a season's best of 12.64m for bronze medallist Lia Stephenson.
"I was feeling good and each round gave me a small improvement, which feels good," said Metzger. "I am still hopeful of Belgrade as I am in a good position in the rankings [for World Athletics selection] and I hope to do another couple of meets to secure my place."
High jumpers share gold – and bronze – while Cook and Lincoln come out on top
It might not quite have been on the same level at Gianmarco Tamberi and Mutaz Essa Barshim at the Tokyo Olympics, but the men's high jump gold was also shared in Birmingham. Kelechi Aguocha and UK leader David Smith both went over 2.13m but could not be prised apart and opted to share top spot. Even more unusual, however, was that Joel Clarke Khan, William Grimsey and Dominic Obechie shared bronze after all clearing 2.09m.
Defending champion Sophie Cook, meanwhile, won an entertaining women's pole vault competition against 2017 winner Jade Ive.
Cook's season's best of 4.45m landed top spot, a height which Ive (4.40m) couldn't match, and Sophie Ashurst won bronze with 4.15m.
In the men's shot put, Scott Lincoln "got the job done" as he won his sixth British Indoor title to make sure of his World Indoors place. His biggest throw of the day was 19.72m, while Youcef Zatat was second in a PB of 17.79m from Patrik Swan's PB of 17.09m.
Harry Kendall held a small overnight lead after four events in the men's heptathlon on 3018 points, followed closely by English champion, UK leader and Tonbridge clubmate Lewis Church on 2987 and Howard Bell (2982).
» New year special offer – get your first issue of AW magazine for just £1!